Location: Ravenna, Italy, EU
e-mail: paolo.morini2@tin.it
Telementor user since: 2003
Observing Site Classification: Urban
Preferred sky objects: Double stars, Moon, Sun, Planets
Telementor's best view: Moon
Other telescopes: Takahashi FS102, Televue Pronto, Zeiss C50/550

Do you remember the first day using your refractor?. Experiences?, Observing?. Did you remember the date (year)?
As my telescope is an ATM project based on C63 Zeiss lens, it's hard to say the exactly first light, as there was some test-and-adjust work around the telescope before the actual situation.
Probably the first light was during a public night in June 2003.
The telescope was on my GPDX equatorial mount and it was a surprise to observe Jupiter – there wasn't any "haze effect" typical of most small – and roughly made – telescopes!
I got some "off-socks" views of my favourite double stars – Mizar, Albireo, Epsilon Lyrae.
The manual pin-point star and diffraction pattern!

Which is you favourite observing site?. Conditions of the site (weather, limiting magnitude, altitude, transparency, "seeing".., etc)?
I have not a good backyard observatory, as I live not far from the center of town, so light pollution is quite heavy.
More, after some people had a window crashed by thieves, most neighbours have set up backyard lights to fight with the latest corner of darkness.
I like very much to ga around town and in the countryside with telescope, observing manuals and, most important, friends to share the beauty of the universe.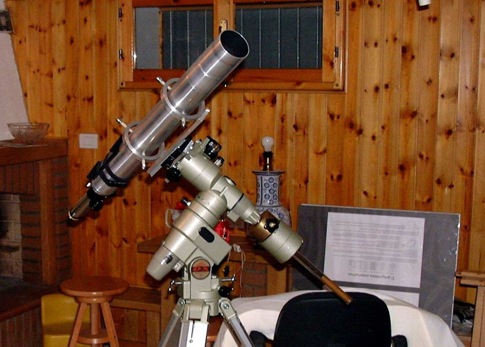 What type of sky objects do you prefer to observe with your Telementor/Telemator?
I am most intrigued by double stars, both famous doubles (Algieba, Mizar) and unknown (like many Struve xxxx).
It's very nice to observe a couple of 8/8.5 magnitude and 5" separation; you are sure the you belong to a small group of people that have observed such a hidden jewel …

What is your best achieved view or the most incredible view you have got with the Telementor?. What is the most beautiful sky object observed with your refractor?
Well, hard to say, probably our Moon at first quarter. Very sharp details!

What eyepieces do you use?. Other accesories?
I use mainly Televue eyepieces, Plossl from 10.5 to 32 mm, a 15.4 mm Svarowski and, top of my eyepiece collection, Naglers 7 and 4.8 mm.

Have you compared the small Zeiss with other telescopes?. What were your experiences on this?
I must say the Telementor is much better of Televue Pronto in high res observing.
Toward the Takahashi, ok, no history, the Tak has bigger diameter and terrific overall quality, but I must admit that observing with the Telementor is like to drink a very good wine, the observations have a very particular and unique taste …

Are you happy with your refractor?. Pros and cons?
I am very happy.
More, I love my own work made to set up the telescope.
Pro: the quality of the lens! A typical "conversation-stopper" at star parties :-)
Cons: the diameter is small, you get a fatal attraction toward bigger Zeiss lenses.
A Ferrari?
Nah, I don't like to drive the car, the roads are always full of traffic, the motor makes a lot of noise and drink too much fuel.
Much better to get an APQ refractor …
Clear skies,
Paolo Morini