My daughter and I attended Starfest again in late August and had a great time. Starfest is Canada's largest Starparty with attendance of over 1200 amateurs, that gather to talk astronomy, listen to lectures and of course, look through telescopes.

In among the group is our humble home with my 4" Zeiss AS getting some solar viewing in. Pretty much a typical setup that is repeated throughout the field
While there is plenty of interesting astronomy talk to share and awesome equipment to see during the three days that we were there, the highlight for us is always when we help out with the solar viewing. In all, they set up maybe a dozen scopes with various type of solar filters so that anyone interested can view the sun. We had cloudless sun and this sub-event was very popular with the attendees. This year I set up my Telementor and my AS80/1200 side-by-side on my SP mount. The SP just barely handles the 20 lbs. of weight, but when you are only viewing one target is does a good job. I put an h-alpha filter on the Telementor and a Herschel wedge on the AS80,
which gave a nice comparison view of the chromosphere and the photosphere. Most who looked through the scopes remarked that they enjoyed being ableto compare the views and it helped them to see more detail in each. One experienced observer said "I had the best white light view of the sun I have ever seen through PJ's 80mm Zeiss/Hershel Wedge combination. Of course, the HA view through the 63mm mounted right along side was great too!"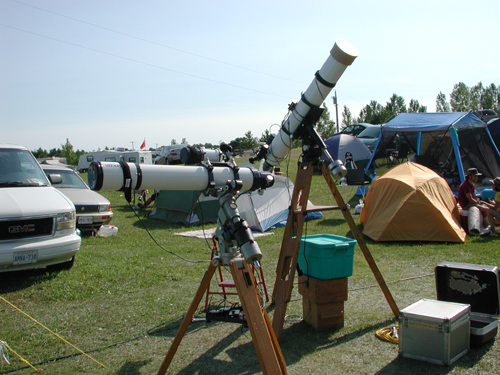 The scopes I drool over are the Apo refractors. Here are just a few of the AP Starfires on the field.
ISaturday I used a 6mm and 8mm TMB monocentrics with my 4" Zeiss AS100/1000
(with a Zeiss prism diagonal and a Zeiss 1.3X barlow for an effective focal length of 1300mm) to view Mars. The seeing was excellent and I was rewarded with outstanding views of a black sky surrounding a planet yielding a lot of detail. Not being an avid Mars fan, I can't name all the features I was easily seeing, but Mars was staring back as Solis Lacus (the "eye" of Mars) was quite distinct as well as the south polar region and several other markings. I couldn't get over the lack of scatter and wealth of contrast that the mono's gave. Several individuals who stopped by for a look, couldn't either.

This fellow had it all. An AP130, Tak FS102 and an AP 80mm guidescope, on an AP 1200 mount.
Starfest is always a fun event for both my daughter and myself, but both of these views made for a very memorable one too.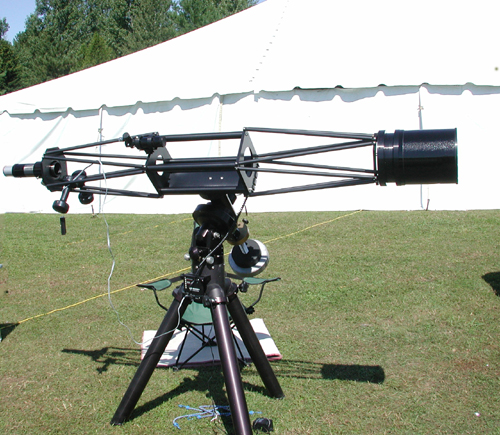 This is Peter Ceravolo's unique 8" f/10 Apo. I was able to view Mars through it during some excellent seeing on Saturday – Wow!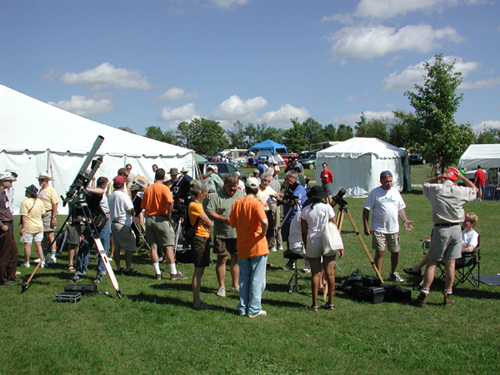 My daughter and I were able to help out again this year, with the open solar viewing on Friday. Mine is the double scope to the left. I set up my 80mm for "white-light" and my 63mm for h-alpha, which gave a nice comparison view side-by-side.
Text and pictures by PJ Anway, 2003
panway@up.net